MEP Middle East received a huge number of responses, with more than 125 submissions from more than 46 companies across 18 categories
by Anup Oommen
It's finally here! Take a look at the leading firms, projects, and people who have been shortlisted for the 2021 MEP Awards – the most-respected and well-recognised platform to honour the achievements of the electromechanical and plumbing sector in the UAE – hosted by ITP Media Group's MEP Middle Easttitle.
One of the shortlisted candidates in each of the below categories will be crowned the Winner while another will win the Highly Commended trophy at the 2021 MEP Awards, which will be held on Tuesday, 28 September 2021, at the JW Marriott Marquis Hotel in Dubai.
THE JUDGING PROCESS
MEP Middle East received an overwhelming number of responses, with more than 125 submissions from more than 46 companies across 18 categories – including entries from industry-leading MEP contractors, consultants, and suppliers.
The nominations were placed through an in-depth editorial review, with a careful and detailed analysis of each entry, which resulted in the shortlists below.
The shortlists will now be sent to our panel of highly qualified, well-recognised, and respected judges, including Prof Dr Sabih Gatea Khisaf, Infrastructure Lead MENA at Hyperloop Transportation Technologies; Paul Desmond, the Head of Building Services Supervision at WSP in the Middle East; AbdulRahman Al Beshri, Risk Management & Business Continuity Manager at wasl Group; Rejil Kumar, General Manager at WML and Team Leader at the Dubai Quality Awards; and Mandarr Agshikar, Director Middle East at AMCA International and Executive Committee Member of Continual Improvement SubGroup at the Dubai Quality Group.
The judges will first independently review all the shortlisted entries and award scores to each of the submissions individually, based on the set criteria and weightage for each category.
The highest scoring entries will then be evaluated by a panel of judges who decide the winners and highly-commended nominees in each category.
The judges for the 2021 MEP Middle East Awards have incredible knowledge and experience in the Middle East region, and have also been recognised as industry-leading assessors and auditors, with plenty of prior expertise in reviewing submissions and nominations at multiple awards.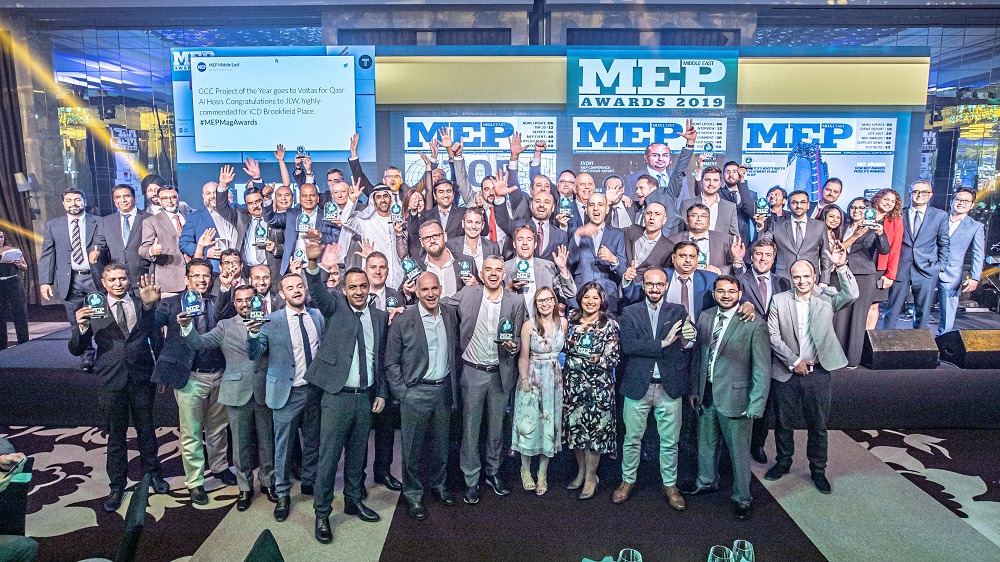 Without further ado, here are the shortlisted firms for each of the 18 Categories:
PROJECT AWARDS
GCC PROJECT OF THE YEAR:
| | |
| --- | --- |
| AG Engineering | Jebel Ali Data Centre |
| ALEMCO | Mobility Pavilion, Expo 2020 |
| The Red Sea Development Company | Sheybarah Island – The Red Sea Project |
| Dar Al Omran | Khorfakkan Amphitheatre |
| Voltas Limited | Dubai Exhibition Centre, Expo 2020 |
| Voltas Limited | Place Vendome |
MECHANICAL PROJECT OF THE YEAR:
| | |
| --- | --- |
| Emirates Technical Thermal Systems | Boulevard Heights |
| AG Engineering | Jebel Ali Data Centre |
| Horizon Gulf Electromechanical Services LLC | Al Reem Integrated Health Centre |
| Khatib & Alami | City Centre Al Zahia |
| Voltas Limited | Emaar District Cooling Plant |

ELECTRICAL PROJECT OF THE YEAR:
| | |
| --- | --- |
| AG Engineering | Jebel Ali Data Centre |
| BW Interiors MEP | Visa Cemea HQ, Dubai Media City |
| Voltas Limited | Bluewaters Public Realm Enhancement Works |
| Voltas Limited | Oman Across Ages Museum |
SUSTAINABLE PROJECT OF THE YEAR:
| | |
| --- | --- |
| China State Construction Engineering Corporation ME | Expo Village Parcel 07, MEP Works |
| Black & White Engineering | Pure Harvest Smart Farms |
| Cundall | ENOC Pavilion, Expo 2020 |
| Adeeb Group | Nation Tower |
| AECOM | Mall of Oman |
| Wilo Middle East FZE | Emaar Community Management (ECM) |
| SirajPower | Kent College Dubai |
| Bilfinger Tebodin | ENOC Futuristic Retail Fuel Station |
RETROFIT PROJECT OF THE YEAR:
| | |
| --- | --- |
| BW Interiors MEP | The Arts Club at ICD Brookfield, DIFC |
| Bin Dasmal Contracting Est. | Sharjah International Airport, UAE |
| Voltas Limited | JBR District Cooling Plant |
| BW Interiors MEP | Visa CEMEA HQ, Dubai Media City |
| BW Interiors MEP | Arboretum Restaurant, Jumeirah Al Qasr Hotel |
SMART PROJECT OF THE YEAR:
| | |
| --- | --- |
| BK Gulf | Sheikh Khalifa Bin Zayed Al Nahyan Hospital Extension |
| China State Construction Engineering Corporation ME | Dubai Digital Park |
| Veolia Middle East | Oman Sur Desalination Plant |
| The Red Sea Development Company | The Red Sea Project – Wearable Technology |
| SirajPower | Online Monitoring Platform |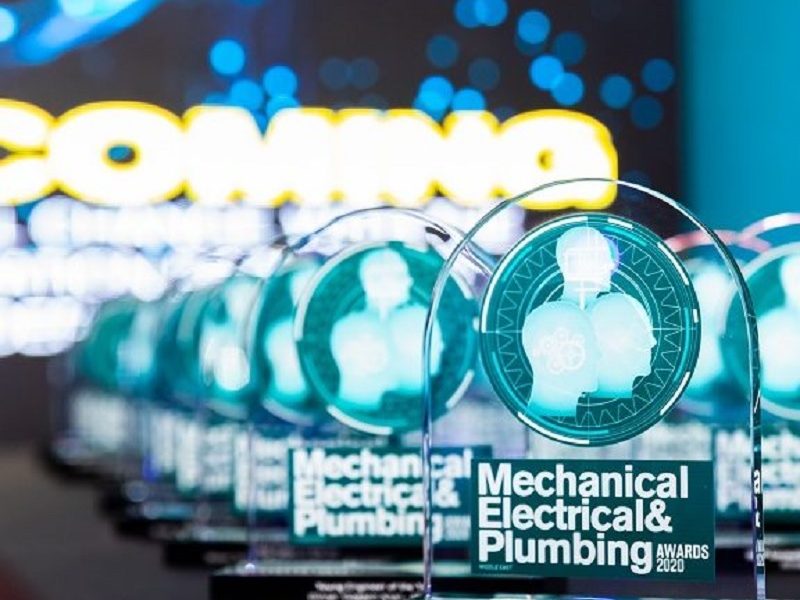 COMPANY AWARDS
MEP CONTRACTOR OF THE YEAR:
ALEMCO
Voltas Limited
AG Engineering
China State Construction Engineering Corporation ME
Horizon Gulf Electromechanical Services LLC
Reliance Contracting Company
Emirates Technical Thermal Systems
Adeeb Group
BEAM Group
MEP CONSULTANCY OF THE YEAR:
Black & White Engineering
Buro Happold
Atkins, a member of the SNC-Lavalin Group
AECOM
SUPPLIER OF THE YEAR:
Bin Dasmal Group
Hira Industries
TROX Middle East
Hira Industries LLC
Herz Middle East FZE
KAD Air Conditioning
Prime Airconditioning Industries
Leminar Air Conditioning Company LLC
Trosten Industries Company LLC
Focus Airconditioning Industries
Rubber World Industry LLC
Camfil Middle East FZCO
Hepworth PME LLC
Gulf Duct Industries
HEALTH & SAFETY INITIATIVE OF THE YEAR
China State Construction Engineering Corporation ME
The Red Sea Development Company
AG Engineering
Voltas Limited
Adeeb Group
Spectrum Cube Technical Services LLC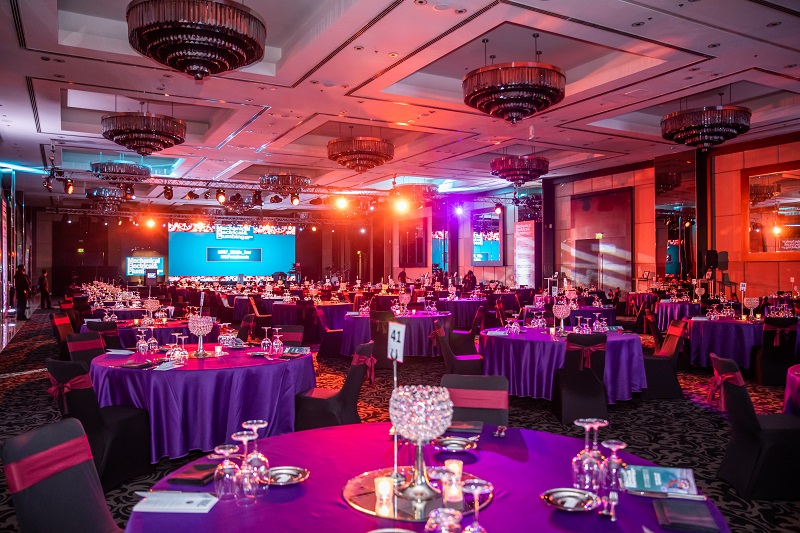 PEOPLE AWARDS:
MEP EXECUTIVE OF THE YEAR:
| | |
| --- | --- |
| AG Engineering | K Jacob John |
| KEO International Consultants | Martin McFadden |
| Adeeb Group | Eng Ansari |
| ALEMCO | Robert McDonnell |
PROJECT MANAGER OF THE YEAR:
| | |
| --- | --- |
| BK Gulf | Xavier Sumesh |
| China State Construction Engineering Corporation ME | Mohamed Hussain |
| Black & White Engineering | Roy Jerry Almeida |
| ALEMCO | Roy Wicks |
| BW Interiors MEP | Denny John Daniel |
| Black & White Engineering | Daniel Williams |
| Adeeb Group | Eng Vazeer Husain |
| Itinera | Roberto Biffi |
TECHNICAL MANAGER OF THE YEAR:
| | |
| --- | --- |
| The Red Sea Development Company | Georges Basmaji |
| Black &White Engineering | Jihad Diab |
| Buro Happold | Pedro Cadima |
| BK Gulf | Dr Aly Diab |
| Gulf Duct Industries | Nabeel Rayees Patel |
MECHANICAL ENGINEER OF THE YEAR:
| | |
| --- | --- |
| BK Gulf | Sameh Alzubi |
| Black & White Engineering | Thomas Craig |
| Black & White Engineering | Howell Laguna |
| China State Construction Engineering Corporation ME | Thanzeel Ali Kattukudy |
| Department of Culture and Tourism | Raied Al-Bitar |
| Khatib & Alami | Ghida Kaddah |
| Black & White Engineering | Maria Batac |
| Ramboll | Chijyoti Challamarad |
| Buro Happold | Marko Ruljanovic |
| Gulf Duct Industries | Nabeel Rayees Patel |
ELECTRICAL ENGINEER OF THE YEAR:
| | |
| --- | --- |
| China State Construction Engineering Corporation ME | Mark Christian De Belen Mendiola |
| KEO International Consultants | Mai Alqaq |
| Atkins, a member of the SNC-Lavalin Group | Mohan Daniel |
| Ramboll | Ervin Silang |
| Phillipspage Associates | Simon Cathrine |
| KEO International Consultants | Hazem Hussein |
| Spectrum Cube Technical Services LLC | Nadeem Khan |

PLUMBING ENGINEER OF THE YEAR:
| | |
| --- | --- |
| Atkins, a member of the SNC-Lavalin Group | MadhuBabu Chandran |
| Ramboll | Stephen Kelly |
| Buro Happold | Ashveen Jeetun |

YOUNG ENGINEER OF THE YEAR:
| | |
| --- | --- |
| BK Gulf | Karim Sandouka |
| Black & White Engineering | Munis Abdul Hameed |
| China State Construction Engineering Corporation ME | Guiqiand Ma |
| Mohamed Salahuddin Consulting Engineering Bureau (MSCEB) | Fatema Almajed |
| Ramboll Middle East | Abdul Naser |
| Al Turath Engineering Consultants | Ahmed Takala |
| ALEMCO | Anre Coetsee |
| Ramboll | Waseemuddin Shakeel Ziauddin |
| Buro Happold | Czarina Copiaco |
| KEO International Consultants | Mohammed Alqallaf |
| Nael General Contracting LLC | Noufal BK |
| Gulf Duct Industries LLC | Nabeel Rayees Patel |
The MEP Awards 2021 will be supported by our partners, Platinum Sponsor – Geberit, as well as Gold Sponsors – Voltas, ALEMCO, BK Gulf, Leminar Air Conditioning, Rheem Manufacturing, Trox Middle East, Bin Dasmal Group, and Spectrum Cube